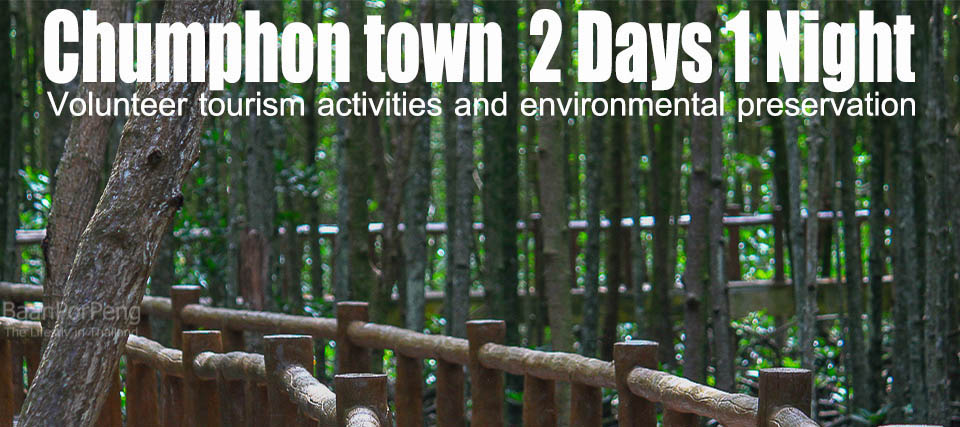 Activity type : Volunteer tourism and Environmental preservation activities
First Day
2.00 pm. Meet at Chumphon Railway Station, Chumphon Province.
2.30 pm. Check in welcomes you with herbal drinks. Keep luggage for accommodation and have lunch at the homestay (1)
3.00 pm. Listen to a lecture on the benefits of bio-fermented water and EMB along with Demonstration of bio-fermentation and Making EMBs from bio-fermented water To restore water sources and increase food chains for the ecosystem
4.00 pm. Begin a forest restoration activity with a one-way mangrove restoration project. Beginning with the removal of old dead mangrove trees and planting new mangroves to replace After that, throw EMGs into the water that is rotten from the factory. (In the area near the homestay) in order to restore and balance the water source
5.00 pm. Return to the homestay.
6.00 pm. Dinner (2)
7.00 pm. Activity on making a fish house by coconut tree (In the homestay area) while enjoying the atmosphere by the Tha Taphao river at night
8.00 pm. Free time
Second day
6.00 am. Offer food to monks who receive alms in the morning.
7.00 am. Breakfast (3)
8.00 am. Take a longtail boat out in front of the homestay to do garbage scooping on the Tha Taphao river and throw Banpu + Ban Pla into the water. At the specified point
09.30 am. Return to Homestay
10.30 am. Check out luggage. Ready to travel to "Ban Kong Banana" A place to learn about breeding and processing of Kluai Nam Wa bananas. Which is the local banana of Chumphon Along with demonstrating the production of banana leaves Ready to buy souvenirs And souvenirs
11.30 am. Lunch (4)
12.00 pm. Arrive at Chumphon Railway Station And return to his destination safely
** Price for 1 person : 3,400 baht **
Child :
Under 4 years old are free.
Between 4-7 years old or height of children up to 120 cm. Is 50% of the adult price.
Over 120 cm in height but not over 12 years old are 70% of the adult price.
12 years old or older and over 120 cm. Are equivalent to the adult price.
This price is included :
Service car pick up from Chumphon Railway Station.
1 night at riverside homestay
4 meals
Biological fermentation and EMball activities
Mangrove Forest Planting Activity
Activity to build a crab house, fish house
Long tail boat and Life jacket for activities in Tha Tapao River
Food for monks
Local guide and expert in the area
Accident insurance in the amount of 200,000 baht
This price is not included :
What to bring :
Light clothes Easy to dry not absorb water, Sandals, Sunglasses, Hat, Swimming suite, Coral-friendly sunscreen, Flash light or head light are advisable, Action Camera, Battery backup.
Thing to do :
Relax, Be free, Forget age and position, Fun, Laugh, and Enjoy learning new experiences.
Important before booking :
Travel Programs could be changed without prior notice due to the weather condition..
All children under the age of 16 must be strong swimmers. Parental discretion is advised when bringing children to all program tour.
Please obey the instructions of the staff strictly.
Booking & Payment
Various details are subject to change. Which will mainly depend on the natural environment at that time And the safety of the traveling companion is important.
Please transfer 50% deposit to Kasikorn Bank , The Mall Bangkae Branch , Account number 751-2-00101-3 , Account name Mr.Nipon Imsumran , SWIFT "KASITHBK"
PayPal (3% service charge for international money transfers)
Prior to departure 15 days (normal or weekly) , At least 30 days for the festival or long weekend , And pay the rest upon arrival.
In case of cancellation within 15 days before departure Less 50% of the tour price.
In the case of cancellation within 7 days before departure The company reserves the right to refund tour booking fees. And / or all tour fees.
But you can change or postpone the travel date Which must notify at least 15 days in the normal period And not less than 30 days before the announcement for festivals or public holidays.