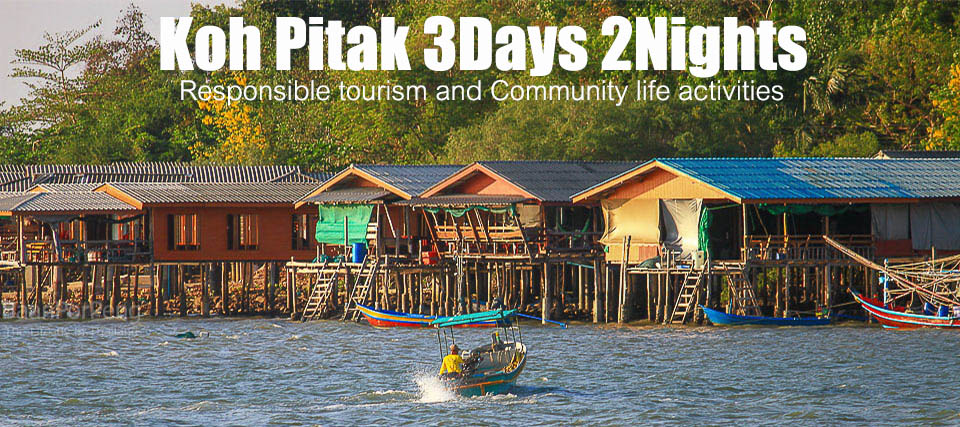 Activity type : Responsible tourism and Community life activities
First day
4.00 pm. See you at Koh Pitak pier.
4.20 pm. Luggage is registered to the room.
4.45 pm. Snack and drink And rest at your leisure (1)
6.30 pm. First Activity: Cruise out to fall inking. Then bring back to make dinner
8.00 pm. Dinner (2)
8.30 pm. Relax at your leisure
Second day
7.00 am. Breakfast (3)
8.00 am. Free time
9.00 am. Activity 2: learn to make tie-dyed fabrics from nature or learn to make soap from morning glory leaves (can choose 1 activity)
12.00 pm. Lunch (4)
1.00 pm. Relax at your leisure
2.00 pm. Activity 3: Cruise to shallow diving at Khram Island
4.00 pm. Bathing, changing clothes. Free time at leisure
6.30 pm. Dinner (5)
7.30 pm. Relax at your leisure
Third day
7.00 am. Breakfast (6)
8.00 am. Free time
11.00 am. Lunch and preparation for departure (7)
12.00 pm. Arrive at Koh Pitak Pier And returned safely.
** Price for 1 person : 4,600 baht / person **
** Price for 2 people : 3,800 baht / person **
** Price for 3 people : 3,200 baht / person **
Child :
Under 4 years old are free.
Between 4-7 years old or height of children up to 120 cm. Is 50% of the adult price.
Over 120 cm in height but not over 12 years old are 70% of the adult price.
12 years old or older and over 120 cm. Are equivalent to the adult price.
This price included :
Boat transfer to / from the pier – Koh Pitak
2 nights homestay accommodation included fan.
7 meals.
Learn to make tie-dyeing from nature / learn to make soap from morning glory leaves (choose 1 activity)
Squid fishing activities.
Snorkeling boat trip to Khram Island.
Accident insurance in the amount of 500,000 baht.
This price is not included :
Traveling to Koh Pitak Pier, Lang Suan District, Chumphon Province. (Train Timetable & Fares)
Expenses not included in the program.
What to bring :
Light clothes Easy to dry not absorb water, Sandals, Sunglasses, Hat, Swimming suite, Coral-friendly sunscreen, Flash light or head light are advisable, Action Camera, Battery backup.
Thing to do :
Relax, Be free, Forget age and position, Fun, Laugh, and Enjoy learning new experiences.
Important before booking :
Travel Programs could be changed without prior notice due to the weather condition.
Do not touch everything in the sea , do not step on or stand on the coral , do not feed fish in the sea.
All children under the age of 16 must be strong swimmers. Parental discretion is advised when bringing children to all program tour.
Please obey the instructions of the staff strictly.
Booking & Payment
If you are interested in joining us Or need more information Please fill out the form for this reservation. We'll get back to you right away.
Please transfer 50% deposit to confirm the tour booking.
Pay the rest 7 days before departure.
Please transfer 50% deposit to Kasikorn Bank , The Mall Bangkae Branch , Account number 751-2-00101-3 , Account name Mr.Nipon Imsumran , SWIFT "KASITHBK"
When the deposit is successfully transferred, please send the slip. Including informing your name-surname and phone number to make a reservation
Various details are subject to change. Which will mainly depend on the natural environment at that time And the safety of the traveling companion is important.
PayPal (3% service charge for international money transfers)
Prior to departure 15 days (normal or weekly) , At least 30 days for the festival or long weekend , And pay the rest upon arrival.
In case of cancellation within 15 days before departure Less 50% of the tour price.
In the case of cancellation within 7 days before departure The company reserves the right to refund tour booking fees. And / or all tour fees.
But you can change or postpone the travel date Which must notify at least 15 days in the normal period And not less than 30 days before the announcement for festivals or public holidays.
For more information, please contact Khun Wasutha Imsumran / (+66) 065-058-2499 / Line ID : bpp2499 / E-mail : baanporpeng@gmail.com / WhatsApp : wa.me/660650582499 / Messenger : Lifestylethailand2499 /