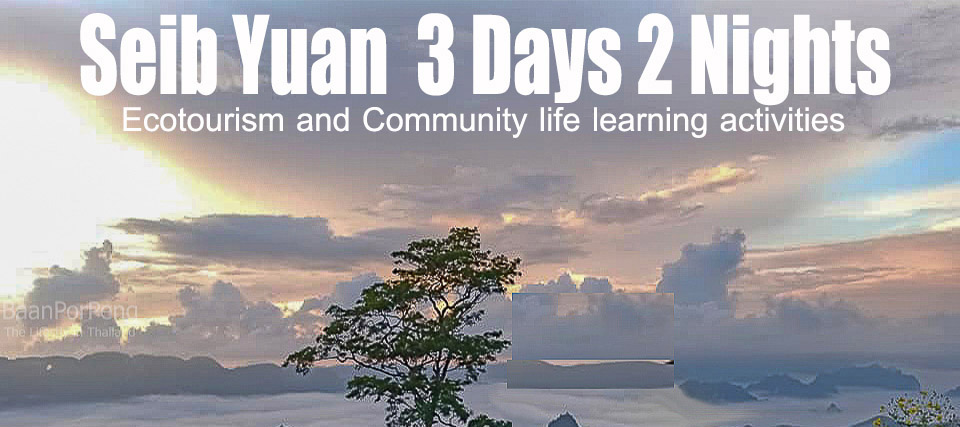 Activity type : Ecotourism and Community life learning activities
First Day
3.00 pm. Pick up at Sawee District Railway Station, Chumphon Province.
3.30 pm. Register to store luggage in the room And relax at his leisure.
3.45 pm. Snack and drink (1)
4.00 pm. Activity 1: Trapping the wetlands for root clams and cockles.
5.30 pm. Bring the clams you find to cook in the evening. Shower change clothes.
6.30 pm. Activity 2: learn to cook from ingredients you can find.
7.00 pm. Ready to have dinner together (2)
8.30 pm. Relax at your leisure.
Second day
7.00 am. Breakfast (3)
9.00 am. Activity 3: Lay the sea crab, stone crab, crab mill.
10.30 am. Return to the accommodation, shower, change clothes.
11.00 am. Relax at leisure / walk around the village views.
12.00 pm. Lunch and preparation for departure (4)
2.00 pm. hrs. Activity 4: Take a boat to collect the crabs. And take a boat to see the mangrove forest Stop by the sea view channel photo spot.
4.30 pm. Activity 1: Return to the accommodation, shower, change clothes.
5.30 pm. Relax at your leisure.
6.30 pm. Dinner together (5)
7.30 pm. Luggage is ready for departure the next day.
8.30 pm. Relax at your leisure
Third day
4.30 am. Leave luggage to see the misty sea at Doi Ta Pang.
5.45 am. Arrive at Doi Ta Pang.
6.00 am. Activity 5: View the sea of mist and have breakfast for coffee at Doi Tapang (6)
8.00 am. Go down from Doi Ta Pang. Visit Khao Thalu such as Hin Hin Dam, take a stop to buy products of Khao Talu community.
11.00 am. Lunch (7)
12.00 pm. Drop off at Sawi Railway Station (Round train 12.18 hrs.)
** Price for 1 person : 4,850 baht / person **
** Price for 2 people : 3,950 baht / person **
** Price for 3 people : 3,150 baht / person **
Child :
Under 4 years old are free.
Between 4-7 years old or height of children up to 120 cm. Is 50% of the adult price.
Over 120 cm in height but not over 12 years old are 70% of the adult price.
12 years old or older and over 120 cm. Are equivalent to the adult price.
This price included :
Service car pick up from / to Sawi Railway Station, Chumphon Province.
2 Nights homestay accommodation including fan (Air condition room, additional 200 baht per person, can sleep for 2 persons, private bathroom)
7 meals.
Activity 1: Lane Trapping and Finding Scallops.
Activity 2: Boat to watch the mangrove forest Stop to see the scenery in the village and take pictures of the rocky channel view of the sea.
Activity 3: Sea crab paste and crab stone mill.
Activity 4: Cooking classes.
Activity 5: Go to see the sea of mist at Doi Ta Pang.
Local guide and expert in the area.
Accident insurance in the amount of 500,000 baht.
This price is not included :
Travelling to Sawi Railway Station, Chumphon Province. (Train Timetable & Fares)
Personal expenses other than the program.
What to bring :
Light clothes Easy to dry not absorb water, Sandals, Sunglasses, Hat, Swimming suite, Coral-friendly sunscreen, Flash light or head light are advisable, Action Camera, Battery backup.
Thing to do :
Relax, Be free, Forget age and position, Fun, Laugh, and Enjoy learning new experiences.
Important before booking :
Travel Programs could be changed without prior notice due to the weather condition.
Do not touch everything in the sea , do not step on or stand on the coral , do not feed fish in the sea.
All children under the age of 16 must be strong swimmers. Parental discretion is advised when bringing children to all program tour.
Please obey the instructions of the staff strictly.
Booking & Payment
Various details are subject to change. Which will mainly depend on the natural environment at that time And the safety of the traveling companion is important.
Please transfer 50% deposit to Kasikorn Bank , The Mall Bangkae Branch , Account number 751-2-00101-3 , Account name Mr.Nipon Imsumran , SWIFT "KASITHBK"
PayPal (3% service charge for international money transfers)
Prior to departure 15 days (normal or weekly) , At least 30 days for the festival or long weekend , And pay the rest upon arrival.
In case of cancellation within 15 days before departure Less 50% of the tour price.
In the case of cancellation within 7 days before departure The company reserves the right to refund tour booking fees. And / or all tour fees.
But you can change or postpone the travel date Which must notify at least 15 days in the normal period And not less than 30 days before the announcement for festivals or public holidays.