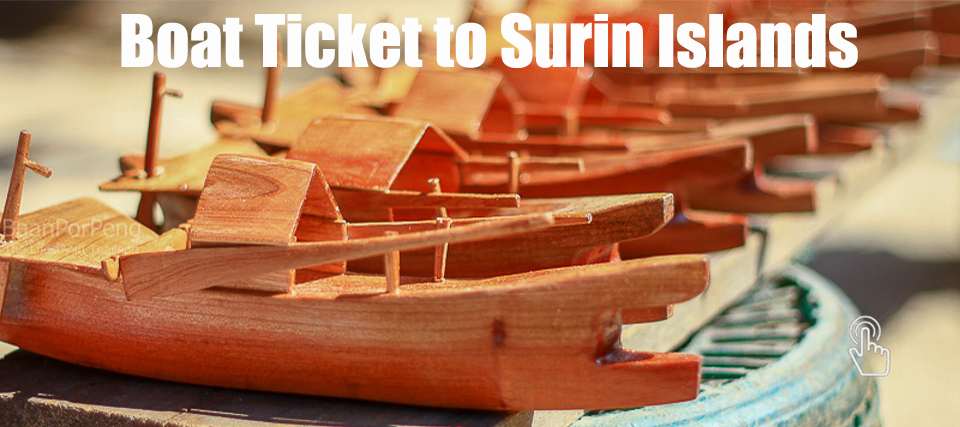 (15 October-15 May)
From Kuraburi Pier every day with speed boat.
8.00 am. Meeting at Kuraburi Pier.
9.00 am. Boat depart from Kuraburi Pier.
10.15 am. Boat arrival at Surin Islands.
Return from Surin Islands.
2.45 pm. Boat depart from Surin Islands.
4.00 pm. Boat arrival at Kuraburi Pier.
** Price 1,700 Baht / Person **
This price includes :
This price is only for roundtrip ticket between Kuraburi Pier To Surin Islands only.
This price not includes :
Traveling to Kuraburi Pier , Phang Nga , Thailand
National Park Fee (500 Baht / Person)
Expenses incurred outside of the program.
What to bring :
Light clothes Easy to dry not absorb water , Tent and bedding , Small fan , Sandals , Sunglasses , Hat , Swimming suite , Coral-friendly sunscreen , Flash light or head light are advisable , Action Camera , Battery backup.
Thing to do :
Relax , Be free , Forget age and position , Fun , Laugh , and Enjoy learning new experiences.
Important before booking :
Travel Programs could be changed without prior notice due to the weather condition.
Do not touch everything in the sea , do not step on or stand on the coral , do not feed fish in the sea.
All children under the age of 16 must be strong swimmers. Parental discretion is advised when bringing children to all program tour.
Please obey the instructions of the staff strictly.
Booking & Payment
Various details are subject to change. Which will mainly depend on the natural environment at that time And the safety of the traveling companion is important.
Please transfer 50% deposit to Kasikorn Bank , The Mall Bangkae Branch , Account number 751-2-00101-3 , Account name Mr.Nipon Imsumran , SWIFT "KASITHBK"
PayPal (3% service charge for international money transfers)
Prior to departure 15 days (normal or weekly) , At least 30 days for the festival or long weekend , And pay the rest upon arrival.
In case of cancellation within 15 days before departure Less 50% of the tour price.
In the case of cancellation within 7 days before departure The company reserves the right to refund tour booking fees. And / or all tour fees.
But you can change or postpone the travel date Which must notify at least 15 days in the normal period And not less than 30 days before the announcement for festivals or public holidays.