The New Normal of Thai Tourism – Tourism Driven under the Supervision of Public Health.
TAT unveils three part strategy for "new normal" tourism recovery
'BEST' practices for tourism workers and visitors includes digital technology to help track and trace.
Booking (in advance): Best practices would mean advanced bookings will be required. Travel plans will become a necessity, including the number of people, date, time, and expenses, which will need to be calculated beforehand ulnder the restriction of numbers and social distancing conditions.
Environmental (enthusiasts): Participate in promoting responsible tourism for society and the environment to help manage the quality of the environment and solve problems caused by tourism; such as, waste and pollution, so as to conserve and heal the recovering environment.
Safety (comes first): Tourists will pay more attention to safety in order to protect themselves and prevent the spread of the virus to others.

Technology (enhanced tourist experiences): Digital technology will include Mobile Track and Trace: a tracking system, which verifies and tracks each individual and/or devices in real time, whereby digital technology becomes a tourism necessity.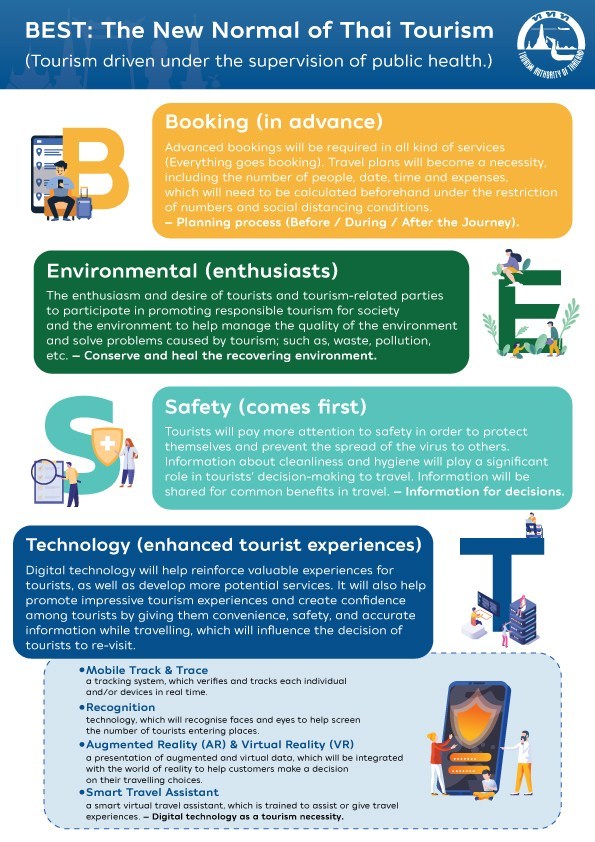 Read the entire article at : https://www.tatnews.org/2020/06/tat-unveils-three-part-strategy-for-new-normal-tourism-recovery/